Frequently Asked Questions
How is 988 different than 911?
988 was established to improve access to crisis services in a way that meets our country's growing suicide and mental health-related crisis care needs. 988 will provide easier access to the Lifeline network and related crisis resources, which are distinct from the public safety purposes of 911 (where the focus is on dispatching Emergency Medical Services, fire and police as needed).
Will police or EMS show up?
The primary goal of the Lifeline is to provide support for people in crisis when they need it most.
Most people seeking help from the Lifeline don't need the help of first responders. Fewer than 2% of Lifeline calls require connection to emergency services like 911. While some safety and health issues may warrant a response from law enforcement and/or Emergency Medical Services (namely when a suicide attempt is in progress), the 988 coordinated response is meant to promote stabilization and care in the least restrictive or invasive manner.
Will my privacy be protected?
People contacting 988 are not required to provide any personal data to receive services. SAMHSA recognizes the importance and the expectation of privacy when a person contacts 988. The network system has several safeguards to address concerns about privacy.
Any effort to obtain demographic information from those who use 988 will serve three primary purposes: 1) to save lives; 2) to connect people to ongoing supports; and 3) to evaluate system needs and performance, particularly ensuring that gaps and inequities are being addressed.
How is 988 funded? Who operates it?
For bigger questions visit The Substance Abuse and Mental Health Services Administration (SAMHSA) website.
Will I be hospitalized if I call 988?
The majority of people get the help they need with a single phone call or a conversation with 988's mobile crisis team. But everyone's mental health journey is different. A small number of people experiencing severe crises will require additional care in a hospital setting for the safety of themselves and those around them.
How is an Urgent Care and Crisis Center different from an emergency room?
While emergency departments tend to a variety of physical and emotional emergencies, Urgent Care and Crisis Centers are specifically prepared to help people experiencing a mental health or substance abuse crisis. Some services they might offer include individual and group rehabilitation, counseling, medically supervised detox, psychiatric emergency intervention, and inpatient care.
Do I have to call 988 to get help from an Urgent Care and Crisis Center?
No. Your local Urgent Care and Crisis Center accepts all walk-ins, much like an emergency room. To find your closest center, click here.
I'm not suicidal. Should I still call 988?
Yes. 988 is for all Oklahomans and can connect anyone who needs mental health support, 24/7. Some of the reasons people call include depression, anxiety, substance abuse, domestic violence, relationship and family problems, self harm, suicidal thoughts, paranoia and psychosis, emotional distress, financial stress, stress surrounding sexual orientation, loneliness, and more.
What do I do if i'm experiencing a mental health crisis?
If you are feeling depressed, anxious, overwhelmed, or suicidal, call or text 988. An operator will listen to what's going on, talk you through next steps, and connect you the specific type of help you need. Depending on your situation, that may look like a therapist recommendation, self-care resources, or if appropriate, connection with an Urgent Care and Crisis Center.
80% of people get what they need with one simple phone call.
Multiple studies have shown that callers to lifelines like 988 are significantly more likely to feel less depressed, anxious, or overwhelmed, experience less suicidal thoughts, and feel more hopeful after speaking with an operator.
What do I do if I'm witnessing a mental health crisis?
988 can be used to get help for yourself or to learn how to help a loved one or community member in distress. However, if a person is an immediate life-threatening danger to themselves or to others, call 911.
If you are needing guidance on how to be there for a loved one, a 988 operator can connect you with resources to care for your loved one the best you can. However, if you believe your loved one needs help you cannot provide, 988 works best when the person in need has requested or consented to receiving help.
If you witness a community member experiencing a mental health crisis — and they agree to receive help — call or text 988 as well. For situations like these, there are plans to offer on-the-scene help from mental health professionals in the form of mobile crisis teams. As 988's reach further rolls out over the coming months, more mobile crisis teams will be added across the state.
How can I spot signs that someone I know might be considering suicide?
While everyone's reaction to mental health struggles is different, there are many warning signs and symptoms that might suggest a person you know is at risk for suicide — especially if behaviors are new, are happening more often, or seem linked to a painful event, loss, or life change.
Some behaviors to watch for include:
Talking about wanting to die or to kill themselves
Researching ways to kill themselves, like searching online or buying a gun
Talking about feeling hopeless or having no reason to live
Talking about feeling trapped or being in unbearable pain
Talking about being a burden to others
Increased use of alcohol or drugs
Acting anxious or agitated, or behaving recklessly
Sleeping too little or too much
Withdrawing or isolating themselves
Showing rage or talking about seeking revenge
Extreme mood swings
If you are concerned that someone you know or love is considering ending their life, 988 can help. Call or text any time to get connected with a local operator, who can connect your resources and guide you on how to safely help the situation.
For more information, visit the National Suicide & Crisis Lifeline.
Got Questions? Ask Away.
Curious about 988? Our team is happy to answer any questions you may have.
Program provides training for adults to help with mental health crises during National Suicide Prevention and Recovery Month in September EDMOND (Sept. 5, 2023) –
Read More »
Resources, training and more offered to Oklahomans to raise awareness for suicide prevention and substance use recovery support  September is National Suicide Prevention and Recovery
Read More »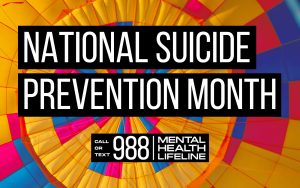 September is National Suicide Prevention Month, a opportunity to raise awareness and learn how to prevent suicide in Oklahoma. According to the World Health Organization
Read More »